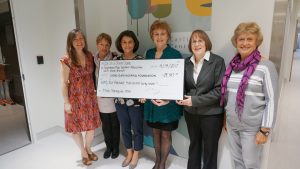 Two years ago, our branch discussed how we could raise our profile in our community and at the same time, fulfill a need in the community. After several discussions, it was decided that we could combine the talents of our teachers, students, and professional artists into a fundraising concert. In our search for a suitable cause, we learned the Lions Gate Hospital Foundation was raising funds for the Carlile Youth Concurrent Disorders Centre at The HOpe Centre, Lions Gate Hospital. We approached the Foundation about organizing a fundraising concert and we were greeted with enthusiasm and open arms.
At first, we were unsure of exactly how to go about accomplishing this, but as a committee was formed and ideas discussed, we decided we had three clear goals: to raise awareness of youth and mental health challenges; to raise awareness and celebrate the power of music and it's potential for healing; and to raise the profile of the BCRMTA, North Shore Branch in the community.
On Saturday, April 8th, 2017 at the beautiful Kay Meek Theatre in West Vancouver, our dream was realized. "HOpe on a Grand Scale" included performances from our teachers, students, MixedAbilities Choir, ProArte Dancers, and the North Shore Celtic Ensemble! Only ensembles were allowed, with the exception of our guest artist pianist – Jeffrey Luo, BC Piano Competition finalist. Grant Lawrence of the CBC was our host, who, with his clever humor and wit, kept the concert moving and our audience laughing! A Silent Auction was also part of this event.
Funds raised will be used to support a music therapy program at the Carlile Youth Concurrent Disorders Centre, The HOpe Centre, Lions Gate Hospital. This centre treats teens 13 to 18 with depression, anxiety, substance abuse and other mental health challenges. The Carlile Centre is one of only two in Canada. With the enthusiastic support of our sponsors, donors and audience, we raised over $20,000 and put the BCRMTA, North Shore Branch on the map in our community! We are continually being asked "will this be an annual event?", "when is the next one?"
Congratulations and special thanks to our "HOpe on a Grand Scale" committee members: Chair – Celine Cassis, Valerie Cook, Marcia Meyer, Kelly Nobles, Patti Richardson, and Lorraine Toljanich for their outstanding job of organizing our first ever, BCRMTA, North Shore Branch fundraiser for youth and mental health.